Abstract
Background
Hibernoma is a rare benign tumor of adults that is composed of multivacuolated adipocytes resembling brown fat cells. Hibernoma typically occurs in soft tissue, and intraosseous examples are very rare. Intraosseous hibernomas can radiologically mimic metastatic carcinoma and other tumorous conditions.
Methods
To collect the intraosseous hibernomas, we searched the pathologic database and reviewed the hematoxylin and eosin (H&E)–stained slides of bone biopsy samples performed to differentiate radiologically abnormal bone lesions from 2006 to 2016. A total of six intraosseous hibernoma cases were collected, and clinical and radiological information was verified from electronic medical records. H&E slide review and immunohistochemical staining for CD68, pan-cytokeratin, and S-100 protein were performed.
Results
Magnetic resonance imaging of intraosseous hibernomas showed low signal intensity with slightly hyperintense foci on T1 and intermediate to high signal intensity on T2 weighted images. Intraosseous hibernomas appeared as heterogeneous sclerotic lesions with trabecular thickening on computed tomography scans and revealed mild hypermetabolism on positron emission tomography scans. Histopathologically, the bone marrow space was replaced by sheets of multivacuolated, foamy adipocytes resembling brown fat cells, without destruction of bone trabeculae. In immunohistochemical analysis, the tumor cells were negative for CD68 and pan-cytokeratin and positive for S-100 protein.
Conclusions
Intraosseous hibernoma is very rare. This tumor can be overlooked due to its rarity and resemblance to bone marrow fat. Pathologists need to be aware of this entity to avoid misdiagnosis of this rare lesion.
Keywords: Hibernoma; Bone neoplasms; Pathology; Immunohistochemistry
Hibernoma is a rare benign adipocytic tumor of brown fat [1]. This tumor was originally described as a "pseudolipoma" by Merkel in 1906 [2]. In 1914, Gery [3] noticed a histological resemblance to the brown fat in hibernating animals and renamed the tumor "hibernoma". The typical histologic feature of the tumor is multivacuolated adipocytes with centrally located nuclei resembling a brown fat cell [1].
Hibernomas commonly occur in the soft tissue of the thigh, followed by the shoulder, back, and neck [1]. Intraosseous location has been rarely reported. Less than 20 cases are currently reported in the English literature [4-13]. Radiologically, intraosseous hibernomas can mimic metastatic carcinoma and other bone lesions, such as a hemangioma, bone island, or benign notochordal lesion [5,8,10]. Only bone biopsy and pathologic diagnosis can distinguish intraosseous hibernomas from other common conditions. In this study, we present six cases of intraosseous hibernomas with clinical, radiologic, and pathological findings.
Fig. 1.
Radiologic findings of intraosseous hibernoma. (A) Low signal intensity on T1-weighted magnetic resonance imaging (MRI). (B) Heterogeneous T2 high signal intensity on T2-weighted MRI. (C) Sclerotic change on computed tomography. (D) Mild hypermetabolism on positron emission tomography scan (arrow).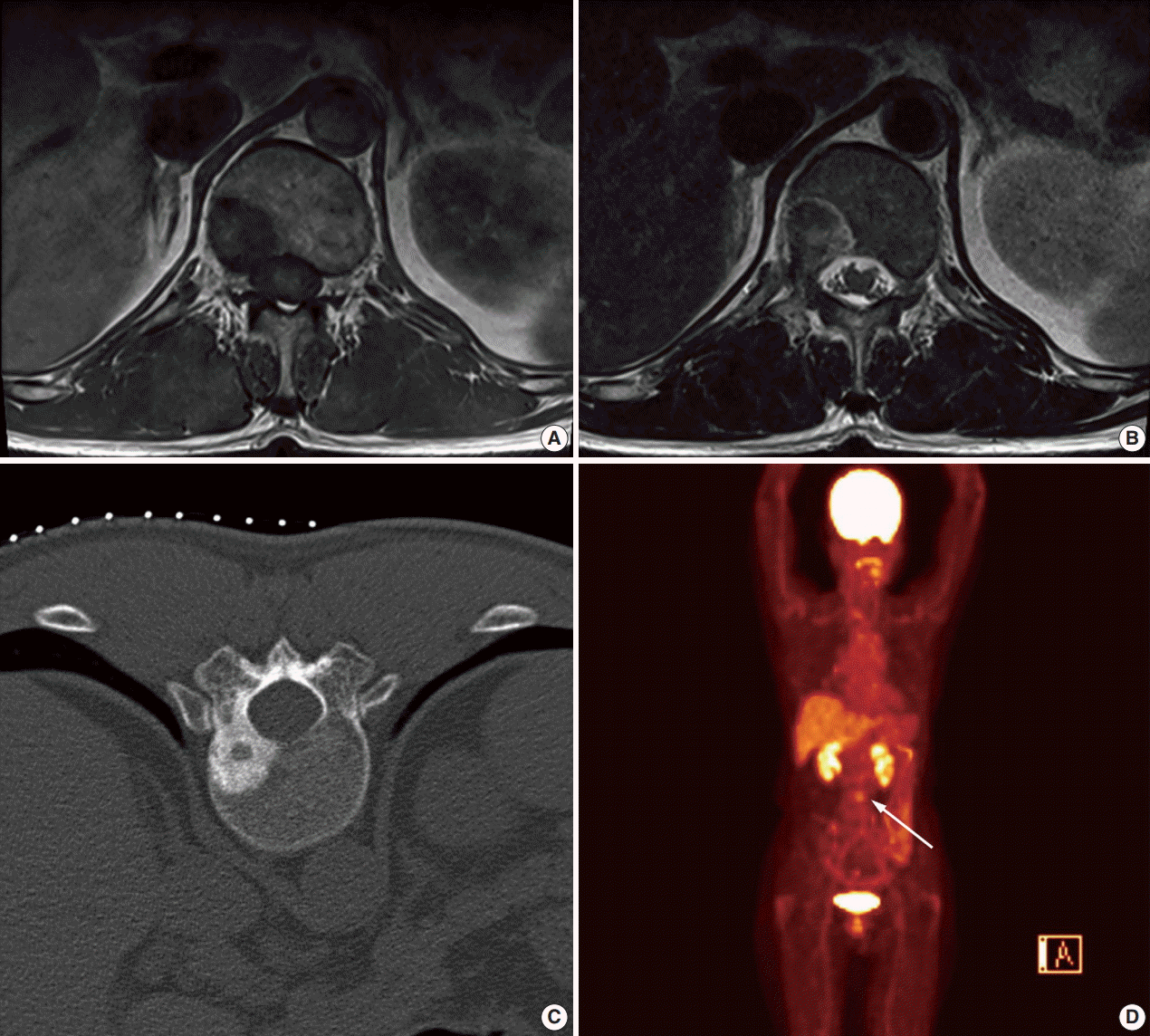 Fig. 2.
Pathologic features of intraosseous hibernoma. (A) Brown fat cells with multivacuolated or granular cytoplasm indenting centrally located small nuclei. (B) Brown fat cells are intermingled with hematopoietic cells. (C) Bony trabeculae shows mild sclerosis. (D) Small to medium sized vessels (arrows) within the lesion.
Fig. 3.
Immunohistochemical stain of intraosseous hibernoma. (A) Immunohistochemical stain for S-100 protein shows diffuse positive staining in the nuclei and vacuolated cytoplasm. (B) S-100 protein immunohistochemistry highlights scattered brown fat cells intermingled with white adipose tissue. (C) CD68 staining are negative in brown fat cells. (D) Pan-cytokeratin also shows negative staining.
Table 1.
Clinical and radiologic data
| Case | Age (yr) | Sex | Reason for investigation | Site | Radiologic finding | Radiologic impression |
| --- | --- | --- | --- | --- | --- | --- |
| 1 | 71 | F | Low back pain | L3 VB | MR: T1, low, heterogenous; T2, high | Metastasis |
| | | | | | CT: sclerosis | Lymphoma |
| | | | | | PET: mild hypermetabolism | Osteomyelitis |
| | | | | | | Hemangioma |
| 2 | 49 | M | Low back pain | T12 VB | MR: T1, low, heterogenous; T2, high | Metastasis |
| | | | | | Simple X-ray: sclerosis | Hemangioma |
| 3 | 65 | M | Hepatocellular carcinoma | T12 VB | MR: T1, low, heterogenous; T2, high | Metastasis |
| | | | | | CT: sclerosis | |
| | | | | | Bone scan: increased uptake | |
| 4 | 68 | M | Low back pain | Sacral ala | MR: T1, low, heterogenous; T2, high | Hemangioma |
| | | | | | CT: osteolysis with peripheral sclerosis | |
| 5 | 45 | F | Knee pain | Distal femur | MR: T1, low, heterogenous; T2, high | Hemangioma |
| | | | | | CT: mild sclerosis | Lymphoma |
| | | | | | | Osteomyelitis |
| 6 | 56 | F | Low back pain | L3–4 VB | MR: T1, low, heterogenous; T2, high | Hemangioma |
| | | | | | CT: sclerosis | Metastasis |